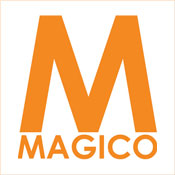 More than a decade before Alon Wolf founded Magico, LLC, he set out to explore the possibilities for contemporary loudspeaker design to perfect it. After researching and auditioning other competitive loudspeaker designs, Alon applied his knowledge of physics and mathematics to create enclosure, transducer and crossover designs that were radically different, resulting in reproduced recorded sound with the presence of live music.
Magico loudspeakers are manufactured by highly-trained craftsman in its 30,000 square foot "state-of-the-art" factory in Hayward, CA. Magico's purpose-built transducers and crossover designs are housed in enclosures formed of pure T6 6061 aircraft grade aluminum (A-Series, S-Series) or, a combination of pure aluminum and carbon (M-Series). The application of these special materials along with complex internal bracing eliminates stored energy in the enclosure and preserves the integrity of the recorded music signal from the transducers.
Every Magico loudspeaker undergoes a series of rigorous quality-control measures using a state-of-the-art Finite Element Analysis simulation testing computer prior to being packed and prepared for shipping.
If you're seeking musical playback performance that is closest to the live performance - Magico will deliver!