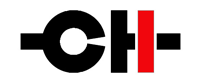 The "CH" in CH Precision stands for Cossy and Heeb, the two founders of this highly reputable company. CH also happens to be the international code for Switzerland, where all CH Precision products are made and manufactured. While CH products are designed in-house, the enclosures are machined by specialized Swiss companies active in the luxury watch industry, and final assembly is handled by ISO certified partners in the Swiss Alps. By working closely with these highly skilled partners, CH Precision is able to deliver incredibly refined products that are fine-tuned to perfection.
Though this is a relatively young company, their products are already well-known for timeless design and superior audio performance. The audio circuitry inside each CH Precision machine is fully discrete, fully differential, and transistor based, which allows for ultra low noise distortion and thus, truthful musical reproduction. What's more, this is a company that thrives on innovation - the ingenious "future-proof" modular architecture and the common chassis in each design allows for future upgrades and complete customization. These products are built for true musical connoisseurs, and they are engineered to last.
With extremely high build quality and impeccable engineering, CH Precision products - from digital-to-analog convertors to line preamplifiers - certainly live up to their name. In this Swiss company, high-quality components and application of the latest technologies combine to create superb audio performance.